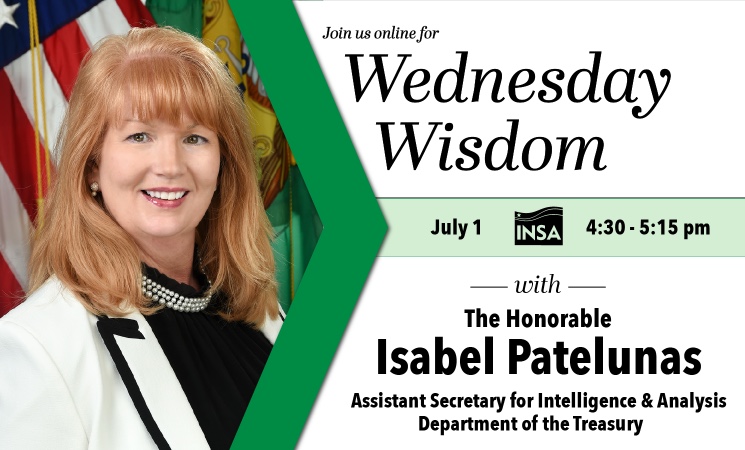 Wednesday Wisdom with The Hon. Isabel Patelunas
Posted on
18 Jun 2020 9:52 AM
Wednesday Wisdom with The Hon. Isabel Patelunas
The Honorable Isabel Patelunas, Director of Intelligence and Analysis, Department of the Treasury, is joining INSA for Wednesday Wisdom on July 1 at 4:30 pm ET, and you should, too!
During this virtual discussion moderated by INSA's Vice President of Policy, Larry Hanauer, Ms. Patelunas will discuss financial threats from adversary nations and non-state actors, the Intelligence Community's collaboration with the financial sector, intelligence analysis training and tradecraft, intelligence workforce challenges, and other issues related to her 31-year career at CIA and the Treasury Department.
About The Hon. Isabel Patelunas
Isabel "Izzy" Patelunas has been the Assistant Secretary for Intelligence and Analysis at the Department of the Treasury since September 2018. Having been with the CIA since 1989, Ms. Patelunas is currently a member of the Senior Intelligence Service and has spent the last 15 years of her career supporting the highest levels of government, including serving as the Director of the President's Daily Brief staff during her rotation to the Office of the Director of National Intelligence. Previously, Ms. Patelunas was Deputy Director of Middle East and North Africa Analysis and of the Advanced Analysis Training Program. She also held leadership positions in the National Counterproliferation Center and the Weapons Intelligence, Nonproliferation and Arms Control Office.
Held weekly, Wednesday Wisdom is designed to foster communication and facilitate information sharing with some of our community's most innovative leaders.
Advance registration is required