Wednesday Wisdom with Matt Gorham, Assistant Director, Cyber Division, Federal Bureau of Investigation (FBI)
Event Begins
and Ends
Posted

01 Oct 2020 10:39 AM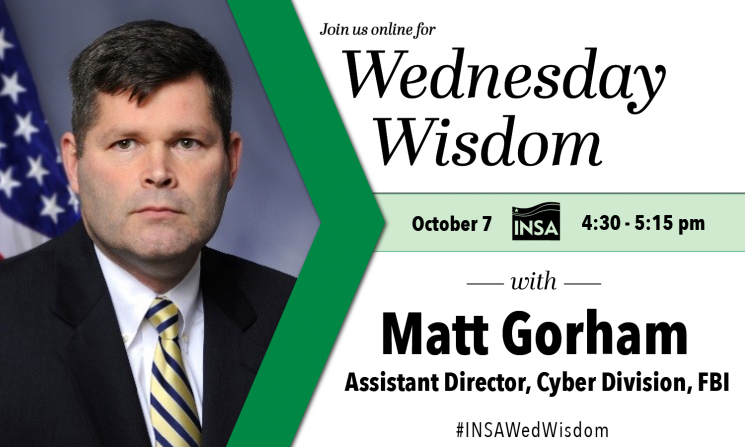 Join INSA on October 7 from 4:30-5:15 pm ET for Wednesday Wisdom with Matt Gorham, Assistant Director, Cyber Division,
Federal Bureau of Investigation (FBI).
The 45-minute conversation will focus on the FBI's current cyber threat priorities and how the pandemic has impacted the cyber threat environment. Mr. Gorham will also address information-sharing between public and private partners and offer his advice to those seeking careers at the FBI. The program will include the opportunity for audience Q&A.
About Matt Gorham
Prior to his current role as the FBI's Assistant Director, Cyber Division, Matt Gorham served as the Special Agent in Charge for the Counterterrorism Division at the Washington Field Office. Mr. Gorham joined the FBI in 1995 and was first assigned to the Pittsburgh Field Office, where he worked a variety of violations with an emphasis on violent crime and drug investigations, before focusing on counterterrorism matters
Throughout his career, Mr. Gorham has served in leadership positions both internationally and domestically, to include in the International Operations Division directing all FBI operations and deployments in Iraq and Afghanistan. Mr. Gorham has also held leadership positions in the Criminal Investigative Division and in the Pittsburgh and Richmond field offices. He has served as deputy assistant director of the Critical Incident Response Group and as the director of the National Cyber Joint Investigative Task Force (NCIJTF). A multi-agency cyber center within the FBI Cyber Division, NCIJFT coordinates, integrates, and shares cyber threat information to support investigations and intelligence analysis for policymakers, the intelligence community, law enforcement, military, and trusted partners in the fight against cyber threats.
Advanced registration is required.