Updated Employer List! Register NOW! National Cybersecurity Virtual Career Fair 2023
Event Begins
and Ends
Posted

27 Jan 2023 11:33 AM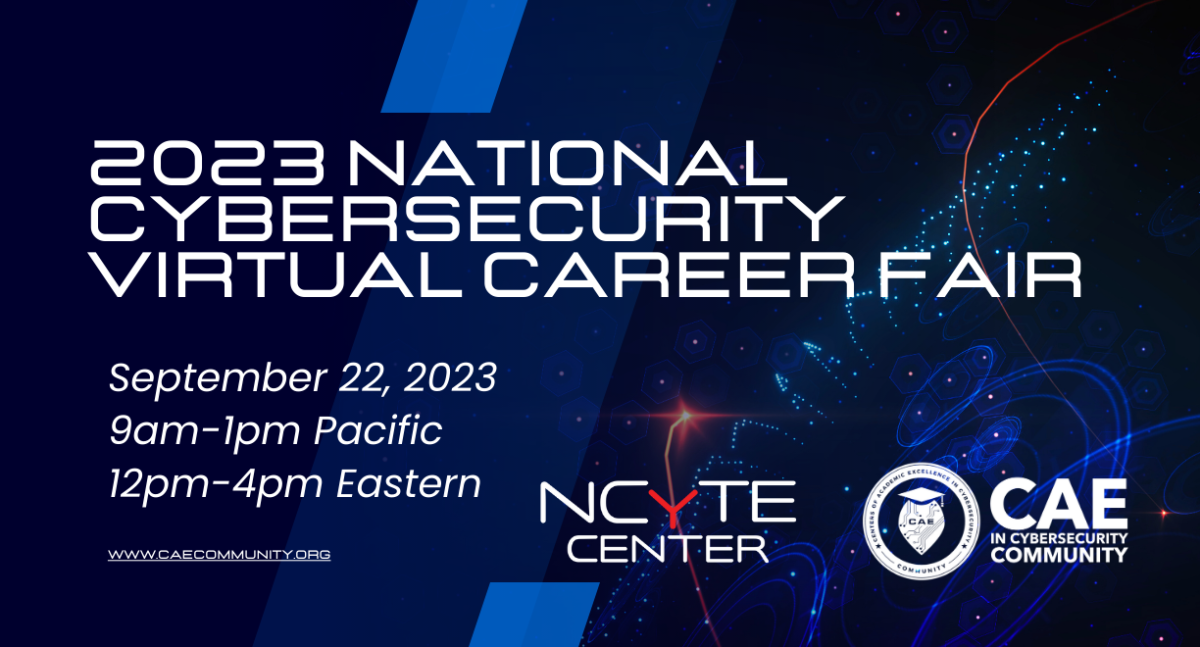 REGISTRATION IS NOW OPEN!
Are you a student or alumni of a CAE institution? Register now!
The National Cybersecurity Training and Education (NCyTE) Center and the Centers of Academic Excellence (CAE) in Cybersecurity Community are hosting the seventh annual National Cybersecurity Virtual Career Fair (VCF), on September 22, 2023, from 9:00 am-1:00 pm PT (12-4pm ET). 
Participating 2023 Employers
Air Force Civilian Service

Air Force Office of Special Investigations

Aon

Bureau of Diplomatic Security

California National Guard

Careers in Nonprofits

Caterpillar

CyberCorps: Scholarship for Service

Cybersecurity and Infrastructure Security Agency

EnergySec

Federal Bureau of Investigation

Federal Bureau of Prisons

Federal Emergency Management Agency

Global Dimensions, LLC

Global Payments

Hagerstown Community College

INSCOM

Jefferson Laboratory

Joint Warfare Analysis Center

La Jolla Logic

Lawrence Livermore National Laboratory

MassCyberCenter

Mastercard

Maximus

National Geospatial Agency

National Institute of Standards and Technology

National Security Agency

Naval Air Warfare Center Weapons Division

NAVSUP

Navy Systems Management Activity

North Carolina Department of Information Technology

NSA OIG

Office of the Chief Administrative Officer

Pacific Northwest National Laboratory

Paramount

Prime Secured

Princeton Plasma Physics Laboratory

Quantum Research International

Savannah River Nuclear Solutions

Smoothstack

Social Security Administration

TDI Security

US Army Cyber Command

US Government Accountability Office

United States Digital Corps

University of Washington Bothell

US Bank

US CYBERCOM

Women in Cybersecurity
---
If you are an employer interested in exhibiting for FREE, please join our interest list. We will contact you to receive more information about registering for this event.
---
NCyTE Center is funded by the National Science Foundation (Grant #2054724). CAE Community is funded by the National Security Agency (Grant #H98230-22-1-0316).
---