Event Begins
and Ends
Posted

02 Nov 2020 9:06 AM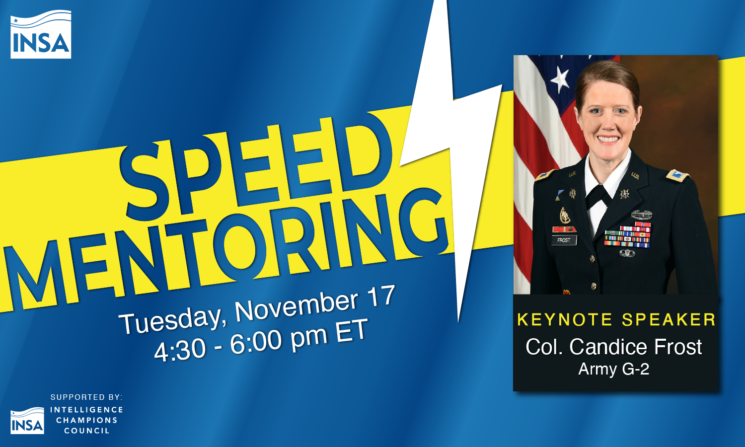 Supported by INSA's Intelligence Champions Council, the annual Speed Mentoring event provides an opportunity for next generation leaders to build relationships and discuss career-related questions with senior executives from across government, industry, and academia. Held virtually, this year's event will kick off with keynote remarks from Colonel Candice Frost, Director for the Army G-2, followed by attendees breaking into small groups for career-focused conversations with the mentors.
Colonel Frost will discuss her mentorship efforts to connect young intelligence professionals with more experienced mentors in intelligence and national security. Her discussion will cover learning from career pivots and the importance of seeking transformational leaders as mentors.
Registration is capped—so don't delay! Secure your spot now.
About Colonel Candice Frost
Colonel Candice E. Frost is the Director of Foreign Intelligence for the Army G-2 within the Headquarters, Department of the Army where she provides current and estimative intelligence to the Secretariat and the Army Staff and projects the Future Strategic Environment to the Secretary of the Army, Chief of Staff of the Army, Vice Chief of Staff of the Army, Army G-2, and Army Acquisition Executive. As the Director of Foreign Intelligence, Colonel Frost advises and provides foreign technical threat intelligence assessments in support of Army acquisition programs, science and technology efforts, and research and development programs. Her career includes significant experience at the tactical, operational, and strategic level of intelligence for 23 years of service.
Dubbed "Colonel Candid," Frost is an advocate for mentorship and seeks to inspire upcoming generations, serving as a mentor, teacher of leadership, podcast series host, and motivational speaker.
Event Details
Date: Tuesday, November 17, 2020
Time: 4:30 - 6:00 pm ET
Location: Zoom
Agenda:
4:30-5:00 pm | Welcome and Keynote Remarks
5:00-6:00 pm | Speed Mentoring Rounds
6:00 pm | Closing Remarks
How It Works: 
Mentees will be assigned to four mentors. Prior to the event, mentees will receive an email containing Zoom links to access each mentoring round, during which they will meet with their assigned mentor and a small group of peers. The email will also include an additional link to watch the keynote remarks. Mentorship meeting rounds will last 15 minutes, after which mentees will be asked to "rotate" mentors using the next meeting link in their email. The process will be explained in more detail in the email and during the event.