Coffee & Conversation with Juliane Gallina
Event Begins
and Ends
Posted

10 Jun 2020 9:06 PM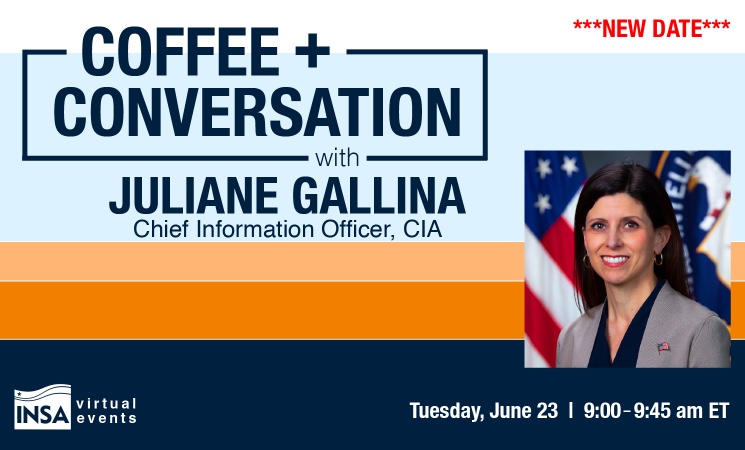 Coffee & Conversation with Juliane Gallina
Juliane Gallina, Chief Information Officer, CIA has been invited to participate in the next installment of Coffee & Conversation on Tuesday, June 23 at 9:00 am ET.
During this 45-minute discussion, moderated by INSA President Suzanne Wilson Heckenberg, the CIO will address what it means to be an innovator, how the CIA has embraced innovation and technology transfer, and the ways in which the agency can better align itself to reap the benefits of technology transfer.
About Juliane Gallina
Juliane Gallina has been the Chief Information Officer for the Central Intelligence Agency (CIA) since April 2019. Prior to taking on her role at the Agency, Ms. Gallina spent a decade in various leadership positions at IBM. Before that, she served for 21 years in the U.S. Navy, from which she retired as a Commander in 2013. During her time in the Navy, she spent 10 years at the NRO as a Deputy Program Director and Senior System Engineer and Program Manager. Juliane Gallina earned a Bachelor of Science degree from the U.S. Naval Academy and a Master's in Electrical Engineering from The George Washington University.
Taking place on Tuesday mornings, INSA's Coffee & Conversation programs give intelligence community leaders the opportunity to speak about timely issues impacting the community.
Advance registration is required.
Thank you to our sponsor Adobe