Coffee & Conversation with John Felker
Event Begins
and Ends
Posted

15 Jul 2020 7:37 PM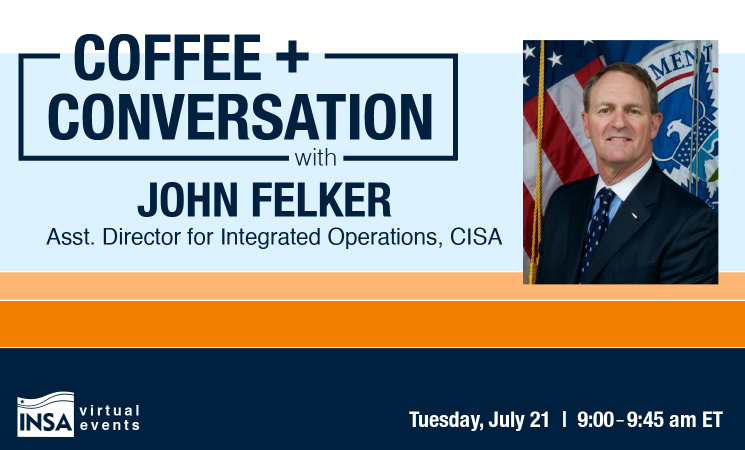 Event Link:
Start your day with INSA! Join us on Tuesday, July 21 at 9:00 am ET for an engaging conversation with John Felker, Assistant Director of Integrated Operations, CISA. 
During this 45-minute program moderated by INSA's President, Suzanne Wilson Heckenberg, Mr. Felker will offer insights from his 30+ year career in the Intelligence Community and discuss some of his Agency's top priorities, including:
Top cyber threats to U.S. government agencies and critical industry sectors
How cyber threat data is shared among government and industry
Future of the cyber workforce
How industry can help CISA with its mission
Advance registration required
About John Felker
John Felker serves as Assistant Director for Integrated Operations at the Cybersecurity and Infrastructure Security Agency (CISA). Previously, Mr. Felker served as the Director of the National Cybersecurity and Communications Integration Center (2015-2019). Before joining CISA, he was the Director of Cyber and Intelligence Strategy for HP Enterprise Services and served in the U.S. Coast Guard for 30 years, holding various leadership positions related to cybersecurity and national intelligence. Mr. Felker is also a Senior Fellow at the McCrary Institute for Cyber and Critical Infrastructure Security at Auburn University and a frequent contributor to INSA white papers.
Taking place on Tuesday mornings, INSA's Coffee & Conversation programs give intelligence community leaders the opportunity to speak about timely issues impacting the community.