Coffee & Conversation with Janice Glover-Jones
Event Begins
and Ends
Posted

03 Aug 2020 2:29 PM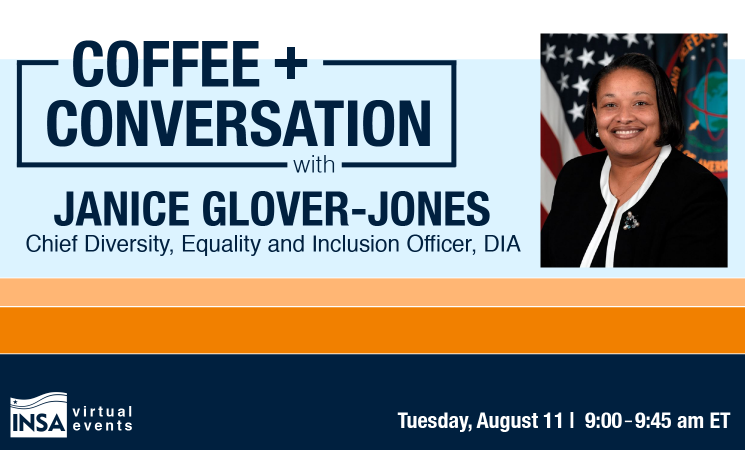 Event Link:
Coffee & Conversation with Janice Glover-Jones
The Defense Intelligence Agency's (DIA) Diversity, Equality and Inclusion Officer, Janice Glover-Jones, is joining INSA for Coffee & Conversation on Tuesday, August 11 at 9:00 am ET.
Moderated by INSA's President, Suzanne Wilson Heckenberg, this morning conversation with Ms. Glover-Jones will offer a better understanding of her leadership position, her agency's diversity and inclusion strategies, and how these strategies help to advance mission success.
About Janice Glover-Jones
With over 30 years of experience at the DIA, Janice Glover-Jones currently serves as the agency's Diversity, Equality and Inclusion Officer. Before taking on this role, Ms. Glover-Jones was Chief Information Officer at the DIA and held a number of prior leadership positions within the agency including budget analyst, intelligence officer, senior program manager, and Deputy Chief Financial Executive. Her federal career began at the Department of Commerce, where she started as a GS-1 administrative assistant. Ms. Glover-Jones earned her undergraduate degree from the University of Maryland University College and holds certificates in Advanced Public Policy Leadership and IC executive leadership.
Taking place on Tuesday mornings, INSA's Coffee & Conversation programs give intelligence community leaders the opportunity to speak about timely issues impacting the community.
Advance Registration Required